site links
Free courses
Disclaimer
The legislative information contained on this web site is my interpretation of the law based on many years in the health and safety business. A definitive interpretation can only be given by the courts. I will therefore not be held responsible for any accident/incident/prosecution arising as a consequence of anyone using any information obtained from this web site

.
The history of the forklift truck - Reach trucks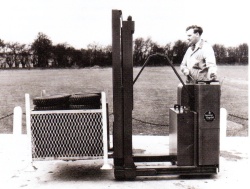 It is generally accepted that Lansing Bagnall, (now Linde), invented the moving mast reach truck in 1954. A picture of this truck is shown left. Seen as a marvel in its day, this truck allowed operators to stack goods and operate in aisle ways that were much narrower than before and to stack loads higher too.

The typical aisle way width was 2.5m and this has led in modern times to high density warehouses with very narrow aisles. The idea was a truck with a mast that retracted towards the operator for stability during normal travel but could be extended beyond the wheelbase in order to deposit and retrieve load
It's fair to say that most narrow aisle trucks were developed from this single principle including both man down and man up combi trucks which are now so common and which were also invented by Lansing Bagnall.
Over recent years, several other companies have laid claim to the invention of the reach truck but Linde now hold the original patent they say so these claims can be taken with a pinch of salt! Unless you know different?
site Search