site links
Free courses
Disclaimer
The legislative information contained on this web site is my interpretation of the law based on many years in the health and safety business. A definitive interpretation can only be given by the courts. I will therefore not be held responsible for any accident/incident/prosecution arising as a consequence of anyone using any information obtained from this web site

.
Health and safety sentencing guidelines one year on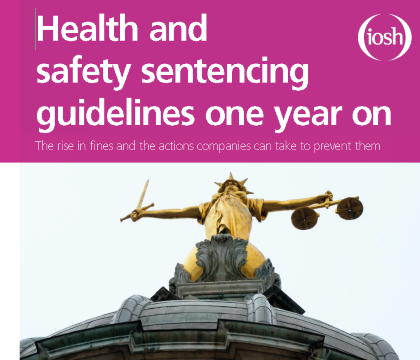 The Institution of Occupational Safety and Health, (IOSH), has reviewed the new sentencing guidelines for health and Safety Offences. You can download a copy of this report here.
The guidelines came into effect on 1 February 2016. Before this, there had been very little guidance for courts on the sentences they should give, leading to a lack of consistency or predictability about the size of a penalty a defendant could expect.
A year on from the introduction of the guidelines, IOSH and Osborne Clarke LLP worked together to look at the impact they have had.
A Freedom of Information Act request revealed there has been a steep rise in the level of fines, with 19 fines of £1 million or more in 2016, compared to three in 2015.