site links
Free courses
Disclaimer
The legislative information contained on this web site is my interpretation of the law based on many years in the health and safety business. A definitive interpretation can only be given by the courts. I will therefore not be held responsible for any accident/incident/prosecution arising as a consequence of anyone using any information obtained from this web site

.
Work equipment thorough examination survey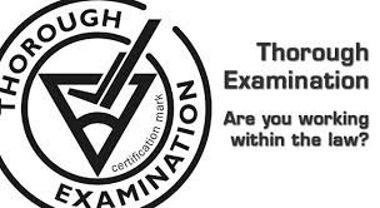 The Health and Safety Executive is reviewing the requirements in health and safety legislation for the inspection or thorough examination of work plant and equipment contained in the following regulations* to understand how they support proportionate approaches to work equipment inspection:
The Lifting Operations and Lifting Equipment Regulations 1998 (LOLER)
The Provision and Use of Work Equipment Regulations 1998 (PUWER)
The Pressure Systems Safety Regulations 2000 (PSSR)
The Work at Height Regulations 2005 (WAH)
The aim of the review is to learn about businesses' experiences of these requirements, explore what proportionate compliance looks like and identify improvements that will enable businesses to ensure their inspection arrangements are proportionate to their circumstances.
If you have experiences, views or suggestions related to complying with these requirements HSE would like you to share them by completing the following survey.
If you would like to submit views in a different format you can do so by sending them to:
examinationreview@hse.gov.uk.
(*The requirement in COSHH for thorough examination of LEV is being considered by a separate review of COSHH, CLAW and DSEAR).