working platforms
site links
Free courses
Disclaimer
The legislative information contained on this web site is my interpretation of the law based on many years in the health and safety business. A definitive interpretation can only be given by the courts. I will therefore not be held responsible for any accident/incident/prosecution arising as a consequence of anyone using any information obtained from this web site

.
It's a hard disk drive in 1956 With 5mb capacity!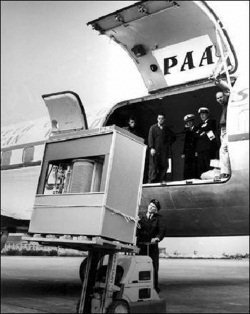 I first put this picture on the website about five years ago but thought it was worth revisiting in the light of current computer technology.
In September 1956 IBM launched the 305 RAMAC, the first "SUPER"' computer with a hard disk drive (HDD). The HDD weighed over a ton and stored a whopping 5 MB of data! It cost $35,000!
Here it's shown being carried by a pedestrian operated fork lift truck.
The truck looks remarkably like an old Yale M15 or M20. Can anyone identify it properly?
Back to current news items>>