site links
Free courses
Disclaimer
The legislative information contained on this web site is my interpretation of the law based on many years in the health and safety business. A definitive interpretation can only be given by the courts. I will therefore not be held responsible for any accident/incident/prosecution arising as a consequence of anyone using any information obtained from this web site

.

Forklift trucks on the road. licence needed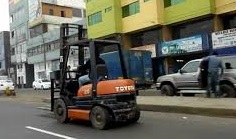 When a truck is driven on the public highway the minimum ages for the operator depend on the gross vehicle weight of the machine and are as follows:
Up to 3.5 tonnes - Age 17 years
Between 3.5 tonnes and 7.5 tonnes - Age 18 years
Over 7.5 tonnes - Age 21 years
When classed as a works truck a category B licence is required to drive the truck on the public highway. An HGV licence is not required regardless of capacity.
Provisional licence holders may drive trucks on the public highway but this is not recommended. Current legislation restricts this provision to trucks that are adapted to carry more than one person and the following applies:
A qualified driver must accompany the provisional licence holder
The provisional licence must cover the vehicle being driven
Learner plates must be displayed prominently on the front and the rear of the truck
The driver must be properly trained to operate a fork lift in accordance with current Health and Safety Legislation
Additional Requirements
When traveling unladen
Forks should be removed, folded back or fitted with marker plates
Similar action should be taken with any attachments
Marker plates, if used, must be suitably illuminated between sunset and sunrise
When traveling laden:
No part of the load shall project more than 2 metres
Loads must be arranged to provide clear forward vision
Remember that it will be normally necessary to carry out a risk assessment as required under the PUWER Regulations before using a truck on the public highway
Forklift truck Lighting Requirements